Foods and beverages are an integral part of Indian lifestyle. Some of the delicacies are associated with specific festivals and occasions, whereas other Indian dishes are popular among the people belonging to different age groups and having different food habits. No wonder both the people residing in metro Detroit, and visiting the city often explore options to enjoy the delicate look, savor and smell of Indian food in a distant country.

Similar to other parts of America, you can find a number of Indian restaurants in the Michigan area. Some of these restaurants allow customers to choose from a variety of Indian dishes, whereas others specialize in cuisines belonging to a specific Indian region. If you have just arrived in Michigan, you can simply consider some simple steps to find the best Indian restaurants in Detroit metro area, and enjoy tasty dishes prepared using traditional and authentic spices.
1. Decide the Your Choice of Indian Cuisine
The choice of cuisines varies from one individual to another. It is also a common habit of many Indians to choose the dishes based on their locality. For instance, the people from South Indian cities like Chennai, Bangalore, Hyderabad and Cochin often prefer South Indian and vegetarian cuisines like idli, dosa and vada. At the same time, the North Indians prefer eating delicious and spicy dishes like naan, chicken tikka, tandoor chicken and samosa. So you have to decide the nature and type of cuisines you want to include in your family dinner, before browsing through the list of Indian restaurants in Michigan area. A number of restaurants offer an all you can eat buffet with over 20 dishes typically for lunch only. Visit once and taste the different dishes and decide your preferences.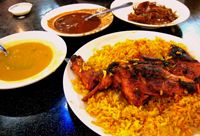 2. Find the Restaurants Specializing in Your Favorite Cuisine
Once you decide your favorite dishes, it is time now to choose the best restaurant. You can find many restaurants having dedicated websites to convey their food menu, contact details, and other facilities, to their customers. A simple web search can also fetch you information about the location and details of the restaurants specializing in North Indian and South Indian cuisine.

However, it is always advisable to gather information about the Indian restaurants located in Detroit by visiting www.miindia.com which provides details on restaurants offering Indian cuisine in Detroit. Also, you can gather information about the promotional offers and specials announced by these restaurants.

3. Evaluate the Quality of Food and Services
You cannot choose the best Indian restaurant in Michigan by referring to the information posted on their business websites and online forums. Along with these online data, you must consider gathering feedback and suggestions from your friends and coworkers residing in the area to check the quality of food items, services and facilities offered by the restaurant. You can also refer to www.miindia.com and read the feedback and comments posted by the customers who have already dined at these Indian restaurants. These details will help you in eating a delicious dinner while enjoying some happy moments with your family or close friends.

You have options to choose from a number of restaurants specializing in a variety of Indian cuisine. After you spend a few minutes in choosing the right restaurant, you can enjoy some memorable moments in an Indian environment.