Chicago Indian Consulate
Home
Chicago Indian Consulate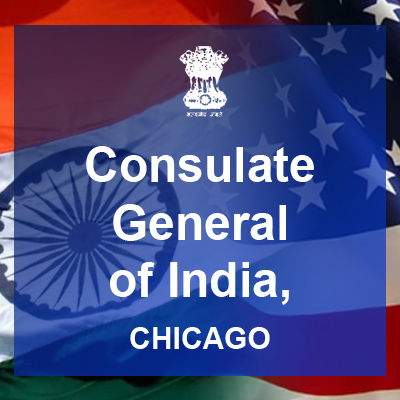 Chicago Indian Consulate serves multiple Midwest states including Michigan. The Consul General (and staff) periodically visits Michigan to connect with the community. Special camps are also held to handle various tasks. The Consulate office is eager to provide answers to your questions. Please click the "Ask the Consulate" button and send us an e-mail. Responses will be published here for the benefit of others.
Read some of the recent responses for the questions such as:
» Do we need RT-PCR test to travel to Mumbai even after uploading proof of vaccine?
» Hello, my family and I have Indian visit visa on my US passports. The passports expired in 2020, but visa is valid till 2028. Do I need to reapply for visa with new passport, or can I travel to India using visa from expired passport?
We will also be publishing the press releases from the Consulate office regularly.
Press Releases
» 74th Republic Day of India Celebrations at the Consulate General of India Click here for Press Release & Photos

» Celebration of National Youth Day and Birth Anniversary of Swami Vivekananda at Consulate General of India, Chicago Click here for Press Release & Photos
» National Unity Day celebration at Consulate General of India, Chicago Click here for Press Release & Photos
» Celebration of Constitution Day at the Consulate General of India, Chicago Click here for Press Release & Photos
» Independence Day Reception hosted by Consul General of India in Chicago Amit Kumar Click here for Press Release & Photos
» Celebration of India's 76th Independence Day Click here for Press Release & Photos
» Supply Chain Resilience: Opportunities For India Click here for Press Release & Photos
» Ambassador Taranjit Singh Sandhu's visit to Chicago Click here for Press Release & Photos
» 8th International Day of Yoga Click here for Press Release & Photos
» Celebration of Vaisakhi and Tribute to Jallianwala Bagh massacre Martyrs Click here for Press Release & Photos
» Consul General Amit Kumar's Address At Illinois General Assembly Click here for Press Release & Photos
» International Women's Day Celebrations Click here for Press Release & Photos
» Restoration of Long Duration (10 years) Regular (Paper) Tourist Visas Click here for Press Release
» Hindi cultural and literary programme Sandarshika | Click here for Press Release & Photos
» International Mother Language Day | Click here for Press Release & Photos
» Illinois Resources & Expansion Opportunities in India | Click here for Press Release & Photos
» Martyrs' Day Observance by the Consulate General of India Chicago | Click here for Press Release & Photos
» 73rd Republic Day of India Celebration at Consulate General of India Chicago | Click here for Press Release & Photos
Copyright © miindia.com